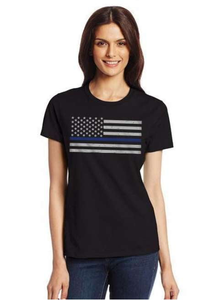 Women's Thin Blue Line American Flag T Shirt
The Thin Blue Line Classic T-shirt is a beautiful & respectful way to honor all of our nations brave police officers. The sleek design perfectly complements the deep black of the shirt, resulting in a subtle and sophisticated look. This shirt is the perfect addition to a summer day and your favorite pair of jeans. Don't let another day go by without a stylish way to show your loyalty and love to our country's police officers.
Slim, modern feminine fit 

100% combed, ring-spun cotton

Honor Law Enforcement with this unique design
The Classic Thin Blue Line Flag Shirt is the perfect piece of apparel to show your support of law enforcement. This time-honored design shows the struggle and fight for our country and the men and women that keep it safe. Wearing this shirt honors our officers through public support, and respects the work they do.
WOW
I wear my shirt to honor the friends I have lost to the senseless violence toward law enforcement. I wear my shirt to support the women and men that put on their uniform, kiss their families and go do a job they feel called to do and and love. I wear my shirt to honor my husband for his yrs of service to Forsyth County Sheriff's office because Vance worked worked there for 32 yrs and retired from the Sheriff's office with the rank of SGT. And I wear my shirt for myself because I am a retired Paramedic with 38 yrs on the job and had the great pleasure to work with these brave men and women.