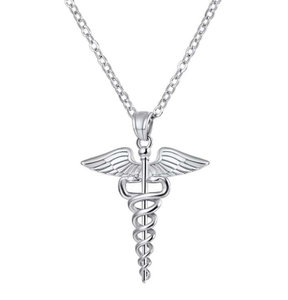 Virtuous Nurse Necklace - Silver or Bronze!
On the path of life, we discover our calling...what we are truly meant to do. Full of heart and selfless to the core, nurses dedicate themselves to our health and wellness. They are the life-savers, the care-givers, the healers. Honor these dedicated spirits with pride. 
Available in Silver or Bronze!
Chain Length is 19" Inches.
Bringers of comfort and care that seem guided by the divine, nurses are an inspiration to us all. The healing touch of these earthly angels of mercy is shown everyday in the selfless attention and compassion each patient receives when needed most. Imagine the honor and pride your favorite nurse will feel when receiving this gorgeous piece of nurse jewelry!
Virtuous Nurse Necklace
I just received it. It's a nice necklace with a great symbol, the caduceus, the universal symbol of the medical field.