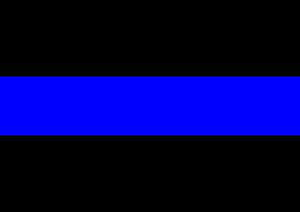 Thin Blue Line Sticker 2.5" X 4.5" - Great for Your Car!
Support Law Enforcement
High quality, durable, outdoor vinyl sticker
Adheres strongly to vehicles
Height 2.5'', width 4.5''

The Classic Thin Blue Line Sticker shows your support for law enforcement. The Thin Blue Line represents our men and women that risk their lives to walk the thin blue line between order and chaos. Adhere this sticker to the back of your car, your side window, or your laptop to show your support for our nation's unsung protectors.
Blue Line Stickers
BackYourHero worked patiently with me regarding my order, and I am beyond pleased with the Blue Line Stickers I received. I sincerely appreciate all they do.
Awesome
Awesome items you have and I hope to be purchasing more in the future.