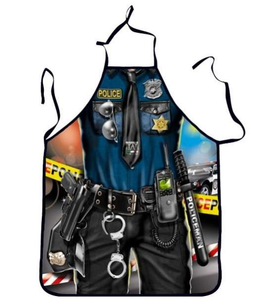 Police Cooking Apron - Great Gift Idea!
The Police Cooking Apron is one way to show your support to law enforcement while cooking your favorite dinner. If you happen to know a  Man or Woman Police Officer who is an excellent chef (or even on that just thinks they are), this funny police uniform apron is the perfect creative gift for them. The personalized apron is made of blended cotton fabrics for a comfortable wear.
The personalized apron is also a great gift for female friends, good quality, bright colors, lightweight, and one size fits most adults.