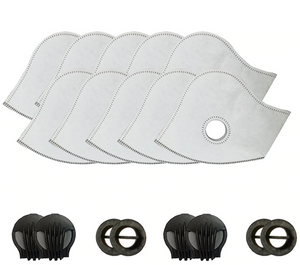 10 Pack Filter Replacement for Face Masks - Includes 4 Valves
10 Pack of Replacement Filters + 4 Replacement Valves
These Air Filters are compatible with all of our Masks!
For the safest results, you should be replacing your Mask Filter every 2 days 
We live in a fast-paced environment and all we think about is the present time. Stop for a minute and think about your health and the health of your beloved ones. Every day we inhale extremely bad airborne particles that have a destructive impact on our health, we are surrounded by viruses, diseases, pollution, bacterias, exhaust fumes and tobacco smoke.
Carbon filters
Easy to breath thru carbon filter. Glasses don't fog up. Once you attach it to the mask, it is comfortable to wear all day, indoors or outdoors.
Purchaser
I like the masks cause they don't really let my glasses fog up while I am wearing them.
Awesome
all items arrived on time and is accurate
ALWAYS a great experience with BYH
I have been buying COVID-19 related products for over 6 months now and have not been disappointed once. If you contact customer support, a real person writes you and that is always a big plus. All products were terrific. I will be back for more unless we get rid of COVID-19 - Fingers crossed!
High quality filters for the mask I purchased