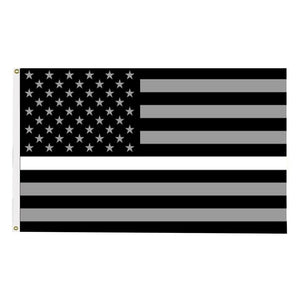 EMT/EMS Thin White Line Flag - 3X5 Feet with Grommets!
3 X 5 Feet

Reinforced with Two Metal Grommets for Hanging

High Quality, Durable Polyester

Flagpole not included. 
The Thin White Line Flag is the perfect way to show your support of Emergency Medical Services, EMTs & Paramedics. It represent the relentless effort of the men and women that help us in times of emergency & need.
EMS is a vital job that only the brave can handle. Operating in high-stress environments, EMS must perform life-saving operations in the field as well as in route to hospitals. Show your appreciation for the men and women who take on this challenge and keep our nation operating in times of emergency.
This Flag shows your respect for the men and women that provide our emergency medical services across America. Proudly display this flag and show your support for all the heroes that give this country their all.
This flag is made of durable, 100% polyester and is designed with 2 heavy-duty metal grommets so it is easy to hang on a flagpole or indoors on a wall.
Very pleased
Flags were just as I expected!!
Awesome flag
This flag is great! Good quality and looks awesome in the wind. Nice to see a Thin White Line dedicated to EMS and not mixed with other entities.
Nice Flag!
Needed to represent our local EMS folks at a presentation of colors and this flag did the job perfectly!
Fast shipping, products are as listed.
Great Item
Our hospital gave these to our area EMS services as a thank you gift for their service,and dedication to our community. They have all loved them!