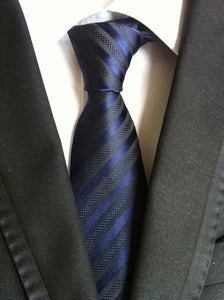 Elegant Thin Blue Line Striped Tie
Support Law Enforcement at all your formal events with our new Thin Blue Line Tie. Each tie is handmade with 100% microfiber to provide excellent detail while retaining the strength and durability required for years of use. Complete your formal attire with our premium tie, and take pride in your support for our American Law Enforcement.
Length - 60 inches or 153 cm
Width - 3.15 inches or 8 cm
Look elegant while supporting law enforcement with Thin Blue Line Striped Tie. The tie is grease proof and waterproof. Use this tie on special occasions such as meetings, interviews, court dates or weddings and show your support to the meaning behind the Thin Blue Line.