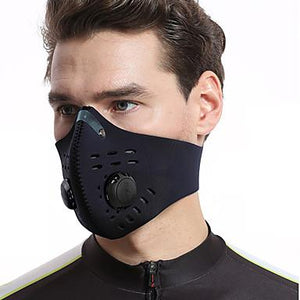 Face Mask Anti Pollution & Dust Mask - Breathe Clean Air & Stay Healthy!
We live in a fast-paced environment and all we think about is the present time. Stop for a minute and think about your health and the health of your beloved ones. Every day we inhale extremely bad airborne particles that have a destructive impact on our health, we are surrounded by diseases, pollution, dust, pollen, exhaust fumes and tobacco smoke.
BREATHABLE material that doesn't fog up glasses. This mask allows you to work out while intaking more oxygen than a standard mask.  
COMFORTABLE - 

Velcro binding for better comfort with zero tugging on ears. 

HAND WASHABLE fabric that allows you to clean and reuse your mask as necessary.
TWO DOUBLE EXHALATION VALVES

 

allow unwanted heat, carbon dioxide and water vapor out ensuring comfort as well as function. Our Mask has a contoured design ensuring it 'seals' comfortably.
Adjustable velcro so anyone can ensure a tight seal & fit!
ADVANCED DESIGN: The filter combines sub-micron particulate pollutant removal, with a carbon layer for filtering gases and vapors. This combination provides increased performance covering a broader spectrum of bacterias & pollutants commonly found in urban populated environments.
ACTIVE SPORTS: It focuses on the 'urban trainer', the 'home runner' or the multi-sport end user, for whom breathing rates are typically higher than your average commuter.
DEVELOPED for extreme atmospheric conditions, whether they be from freezing temperatures well below zero degrees or high chill factors, as found in snow sports. Equally, combination conditions such as rain, freezing temperatures and high pollution levels commonly found in urban city environments.
GREAT FOR THE CITY: Our Mask offers screening from the inhalation of nuisance dusts and odors associated with vehicle exhaust emissions. The filter used in the mask, has been specifically developed for filtering a wide variety of nuisance dusts and odors commonly found in major cities.
Breathable, good material and stylish
I ordered this mask for my family. I have N95 mask as well but I love the way these mask feel and I don't have to worry about anything behind my ears. I love the adjustable band that goes under my hair. We feel protected-even my sister that gets hot easily and she loves it!! I will definitely be ordering more of these!!
Masks & replacement filters
Great product! Very fast delivery service. Have recommended site to friends and colleagues.
Great Product
These guys are god sent. They sell a great product and their customer service is awesome. will always be a customer
Fits well like the fact I can change filters