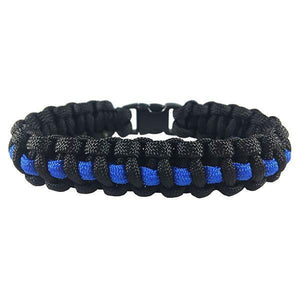 Thin Blue Line Paracord Survival Police Bracelet
550 Paracord: This survival bracelet can easily be disassembled as rope and used for numerous things, like securing a tent, hanging tools, setting traps, cutting off blood flow for wounds, and anything you can imagine.

Perfect for all occasions: Camping, hiking, fishing, on-duty work, lounging at home.
Support the Thin Blue Line: Show Police Unity with a practical survival bracelet 
The Thin Blue Line Paracord has finally arrived due to popular demand. This Survivalist bracelet is perfect for a host of situations from replacing a shoelace to saving someone's limb. Show Police support while carrying around life-saving rope during emergencies. Extremely practical for officers in the field who need to quickly react to situations. A Paracord Bracelet is recommended to be worn at all times. 
Bracelet
I bought three of these bracelets for the wives of three LAPD Officers and they love them! Thank you very much.
Great purchase
Love them. Arrived quickly and are nice quality. Happy with purchase
Heroes
Just trying to help our heroes. I like the convenience if being able to do it directly from my phone. Every dollar counts right?
Everything about this site was easy to navigate, order, and virtually see what you can order. Keep up the good work everyone!