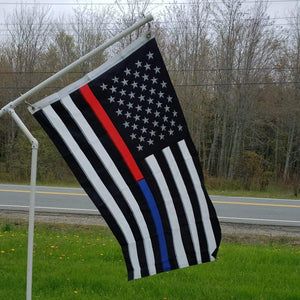 Thin Red & Blue Line American Flag With Grommets 3 X 5 Feet
3 X 5 Feet

Reinforced with Two Metal Grommets for Hanging

High Quality, Durable Polyester

Flagpole not included. 
The Thin Red Line. The Thin Blue Line. Together these symbols of our great police and firefighters combine to create a striking and bold flag; perfect for offering your support to all of our public heroes. With the American flag as a canvas for this bold design, it is empowering to display the red, white, and blue colors in a new way that shows what your defenders mean to you. The Thin Line will always stand as strong and united as the country they protect.
This flag is made of durable, 100% polyester and is designed with 2 heavy-duty metal grommets so it is easy to hang on a flagpole or indoors on a wall.
Up & Flying
Flag is up and flying on my pole under my U.S. flag.
Grommets good. Fabric seems like it will hold up. I'll let ya know how long.
Love our Red/Blue Flag!!
Love our Support your Police/Firemen Flag. It hangs proudly between our Betsy Ross Flag and our Godson Flag out front on our 30' Flag Pole. Living in a neighborhood of Law Enforcement agents and Firemen, it lets them all know how much we appreciate them. It's light weight and flies beautifully!!
Florida US
41 year professional firefighter proud to fly the Thin Red Line flag of pride.
Quality Product
Bought the First Responders flag and Thin Blue line garden flag. Great quality. Proud to fly them and thank them all for their service.
She's a grand old flag!
Great color, light weight but excellent material makes up for that. Very well made and sure to last a long time.