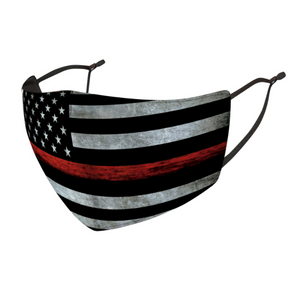 Thin Red Line Premium Face Mask - Firefighter Support
The Thin Red Line Face Mask is made of two layers, polyester outside and breathable cotton inside. Available in Adult Size.
Adjustable, One-Size-Fits-Most, Perfect Fit Over Nose and Chin
Does not tug on ears!
Superior Quality, Re-usable and Washable
Non-Medical Grade Cloth Face Mask

Cover up while you represent and show support towards our firefighters. The mask features a Thin Red Line Flag, making it the perfect mask for events, on-duty, or daily wear. 
The mask should not be used (1) in any surgical setting or where significant exposure to liquid, bodily or other hazardous fluids may be expected; (2) in a clinical setting where the infection risk level through inhalation exposure is high. Back Your Hero makes no warranties, either express or implied, that the mask prevents infection or the transmission of viruses or diseases.
Firefighter face mask
My son loves it and fits very comfortable ❤️ 👨‍🚒
Face Mask for Firemen
Very well made and will fit a teenager.
Thank you.