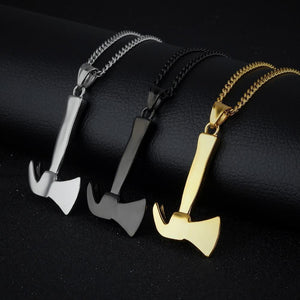 Firefighter's Axe Necklace - Gold, Silver & Black!
This unique and beautiful piece of Jewelry is the perfect way to show your support for our nation's firefighters. 
The Thin Red Line Fireman inspired Necklace honors our brave firefighters that run towards the most dangerous and deadly situations. It represents the men and women that risk their lives to rescue the public from the roar and destruction of fire. The Lone Axe reminds us of all the firefighters that made the ultimate sacrifice to keep our families safe. By wearing this necklace, you are showing your love and support to the fearless heroes that walk headfirst into peril.
Extremely Durable

The Chain length is 19" Inches. 

Does not tarnish
Beautiful necklace
I bought this necklace recently to wear in memory of are two fire fighters that was killed on duty. It's absloutely beautiful , very amazing necklace ( thank you )
Beautiful items
I've ordered from this company three times and I've loved each and every item. My husband and son are firefighters and wear their necklace everyday with no dullness or turning. My husband recently retired and he still wears his everyday. Their customer service is amazing and the products are top quality. I will continue to order from them.
Beautifully Made
Got this got my grandsons Graduation from firefighting school
Beautifully Made
Got this necklace for my grandsons Graduation from firefighting school. Got the silver one. I love it, hope he does too.