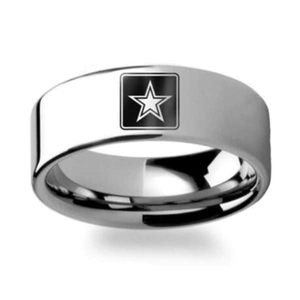 Elegant U.S Army Ring - Pure Titanium!
This unique and beautiful piece of Jewelry is the perfect way to show your support for our nation's Army. To wear this ring is to show your support for the men and women who work tirelessly around the world to ensure our safety and freedoms.
The U.S Army inspired Ring honors our brave Soldiers that run towards the most dangerous and deadly situations. The ring is adorned with the beautiful seal of the U.S Army. By wearing this ring, you are showing your love and support to the fearless heroes that put their lives on the line for our freedom & Safety.
Extremely Durable
Does not tarnish
High Quality 100% Pure Titanium for top quality & durability 
Great for men's or women's wedding bands!
Great value
Excellent quality for the price. Fast shipping. Very pleased.
Army Ring
Bought it for my son- a quality piece! well worth the money, thanks
Great ring
Very nice ring prompt delivery
My boyfriend loved it. Its the only ring he wears all the time. Its very nice and he's proud he has this ring representing his service and wears it proudly.